Restaurant Eggenberg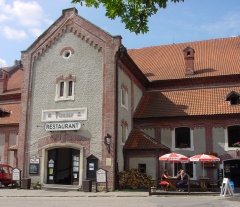 Where the brewery fridges were once housed, above the beer-storage cellar in which beer is still matured today, there is a stylish restaurant and pub, which is one of the most well-known and sought-after businesses in Český Krumlov, offering its customers top-quality services. The restaurant as a whole attracts visitors due to its interesting history and the magic of its inimitable period architecture.
The spacious restaurant, which can seat up to 160 people, offer a pleasant place to sit and enjoy the professional approach taken by the staff towards individuals and large groups, excursions, or private gatherings. The pleasant staff will offer you a wide choice of traditional Czech meals, including brewery specialties, as well as a range of tempting delicacies from around the world. Naturally, we offer all kinds of KRUMLOV beer, including the popular unfiltered yeasty lager. The wine cellar has a diverse selection of high-quality Czech and foreign wines.
You can also enjoy some interesting gastronomic events in the form of pork and game feasts. The brewery restaurant is ideal for organising a wide variety of social events, such as weddings, anniversaries, meetings, birthday parties, work parties, corporate evenings, buffets, banquets, and other evenings of musical entertainment.